Prabha Parthasarathy
Director (Strategic Architect and Mentor)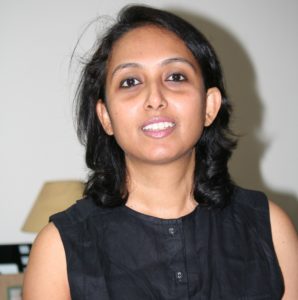 Speaker/Chaired Sessions:

The Erehwon-DMA HR Innovation Awards;
Applied Innovation in XLRI Jamshedpur;
The Pioneer's Way, Business Gyan;
Orbit-shifting Leadership, Petroleum Federation of India;
Talks and Panels at various colleges/institutes
Fascinated by teams and communities that make a transformative impact happen despite extreme odds, Prabha Parthasarathy is now immersed in figuring out 'What would it take to Orbit Shift India?'
In her last 12 years, after she quit the mainstream corporate world, she has been speaking, facilitating, coaching, and consulting senior leadership teams in India and Asia-Pacific, in large-scale transformation — identifying fundamental mental model boundaries that become gravity holding organizations and communities back, moving entrenched mindsets, and crafting refreshingly new strategic ways forward, including new-age leadership rhythms needed for the world of today.
Prabha's passion comes from her belief that the human endeavor is the only driver for dramatic change and innovation. Her ability to fuel and direct LEADERSHIP to ORBIT-SHIFT is tried and tested across multiple organizations and industries.
People participating in her interventions find her passion very contagious and benefit hugely from her 'emotional' orientation in an otherwise intellectual business world, her incisive clarity that strikes at the heart of the matter, and her persistence with leaders until appropriate insights and breakthroughs are achieved.
With a cumulative 18 years of professional work experience, she is able to straddle the worlds of Innovation, Business Strategy, Leadership holistically and with ease across industries & countries.
Her clients have included include Max New York Life India, the Unilever group of companies in Indonesia and Malaysia, Bharti Airtel, CavinKare, ITC – ABD (echoupal), R&D teams, Walt Disney India, Schneider Electric, Zee Media, businesses in the Mahindra group, the Tata group, and the Anand Group to name a critical few.
In the Social space, she has worked with key sectors in State Governments, Petroleum Federation of India, Indian Institute of Human Settlements, a few NGOs, and in development areas ranging from Energy, Livelihoods and Employment, Healthcare, Urban Development, Women Empowerment, Entrepreneurship, and Social Welfare.
Prabha's current focus is in creating innovation roadmaps for accelerating development of state sectors
Articles/Books/Methodologies:
Orbit-shift Coaching™, a pioneering product straddling innovation and leadership for senior leaders and leadership teams
Leadership Practices for Innovation – Newer Rhythms for the Newer Workplace
Research Paper 'Assessing Generativity in Teams'
Methodology for:

Embedding Orbit-shifting Leadership in Organizations
Co-creating Breakthrough Organizational Strategy (Preparing for the future)

Book on 'Growth Leadership' for Max New York Life India
Institutionalizing Orbit Shifting Innovation in R&D organizations – An Architecture
In the process of writing another book on 'What Differentiates Innovative Leaders?'
Before Erehwon, Prabha worked with the Knowledge Solutions Business of NIIT Ltd. for an intensive stint of seven and a half years. She then operated as an independent performance support consultant in Delhi for 2 years when she worked with clients such as GE Capital, NIIT Ltd., Frito-Lay India, DFIDI, British High Commission, CARE-India.
Prabha is an Economics Post-Graduate and has an M.S. in Consultancy Management from BITS Pilani, India.