Gokul Ranganathan
Partner Consultant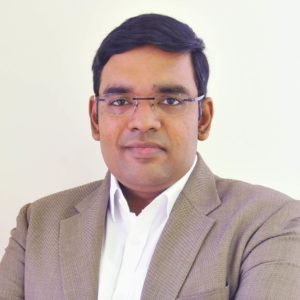 Gokul is a firm believer in the potential of innovation.

He has the ability to seamlessly move between the business context of innovation and human element involved in making breakthroughs happen. He navigates teams to discover their own limiting mental models, challenge them to create breakthroughs and in the course of the journey transform the individuals. He has worked on strategic innovation missions and coaching leaders to become innovation leaders.
In recent times, Gokul has facilitated, coached and mentored 'innovation in operations' challenges across a wide spectrum of companies. He has led and facilitated more than 400 innovation challenges, enabled hundreds of leaders and managers to become 'Breakthrough Innovators', has 2000 plus hours of live on-project innovation coaching & facilitating experience. Through this rich experience, Gokul has created a new body of knowledge – The Erehwon Quantum Innovation Methodology – to transform operations of an organization by-design whilst building sustainable capability & capacity.
Several first-to-the-world breakthroughs have been created during the course of his facilitation. Some of breakthroughs include 12X jump in the capacity of the plant without adding manpower where 10% was seen extremely difficult; A breakthrough jewellery product; 60X the life of a process critical tool; Disrupting a 1000 year old process leading to savings of INR 86 Cr to the bottom line As a testimony to sustainable innovation capability, these teams and individuals have taken on innovation challenges on a continuous basis and created several breakthroughs.
He has designed and led the Titan 'Innovation School of Management' intervention to seed innovation capability and expand the innovation portfolio in Titan Industries. The innovation school has become an established industry reference point for institutionalizing innovation culture in an organization. It was selected as a winner in the Harvard Business Review- McKinsey M-Prize award for "innovating innovation" category, amongst 160 global entries and won the Golden Peacock award for Innovation, amongst several other accolades.
Earlier in his journey, Gokul worked in HP Labs where he was a part of an end to end innovation journey with a revenue potential of USD 2 Billion. He has filed for two patents. He was a Business Architect helping companies re-engineer their business processes before joining Erehwon.
Gokul is an Engineer by qualification specializing in Electronics and Communication.
His clients include: Axis Bank, Akshaya Patra Foundation, Behr, Dana Spicer Corporation, Gabriel India, IPCA Pharma, Ingersoll Rand, ITC -ABD (e-chaupal), Lupin Pharma, Mahindra Farm & Auto, Max New York Life Insurance, Novartis Switzerland, Schneider Electric, Tata Beverages, Titan Jewellery, Titan Watches, Titan Eyewear, Tata Power, General Motors, Shriram Life Insurance Company, Vuclip, Victor Gaskets, Unilever & Wartsila, to name a critical few.