Arun Maharajan
Senior Innovation Consultant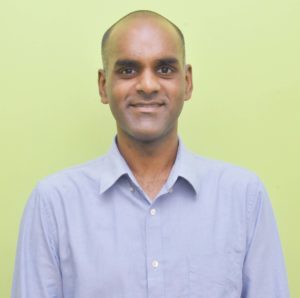 Arun believes in maximizing human potential, as a people and as individuals. This led him on a path of curiosity, experimenting, experiencing, reflecting, connecting and collaborating in areas spanning technology, art and design.

He has worked in the German automotive industry for close to 10 years in areas spanning engineering, project management and product management for clients in Asia, Europe and South America. Among others, he has worked with Bosch, Mercedes Benz, Peugeot-Citroen Motors, Ssangyong and Mahindra & Mahindra.
In order to further explore himself and the world, he returned to India in 2013 and spent a year teaching in a low income school in a Mumbai slum. He was instrumental in introducing multimedia based teaching in his school which resulted in increased student engagement. Thereafter, he embarked on an entrepreneurial journey by setting up and heading Innovation and Product Development for a 3D Printing Design studio. Being in an unproven market and a fledgling field, he was able to experiment in setting up processes and methodologies for the co-existence of creativity and productivity.
He has a bachelors degree in engineering in Electronics & Instrumentation from BITS-Pilani and has an international masters degree in engineering in Automotive from the Hochschule Esslingen, Germany.
He has hitchhiked, backpacked and travelled to 50 countries. He is a bassist and moonlights as maker and visual artist in his free time.